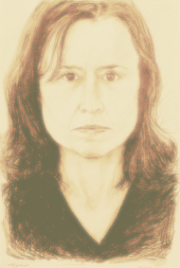 "Self Portraiture Gaze"
graphite on paper
Contemporary artist-designer, Andrea Adkins earned her BFA in Fine Arts from The Ohio State University, graduating Summa Cum Laude with an Excellence in the Arts Award. She also received training at the Cleveland Institute of Art. Her paintings have been selected in juried exhibitions with The Ohio State Univeristy and Columbus Art League. Current interests include imagery for web design, print, and art licensing.

Watercolor and oil pastels combine in recent work, creating painterly portrayals of still life and landscape. Experienced with a variety of media, Andrea has conducted art workshops for both children and adults. Presently, she is Creative Director for Lojic Technologies, a company founded by husband Brian in 1998 which develops websites and applications. Andrea and her family live in Cary, North Carolina.

Thank you for visiting. Your comments and inquiries are welcome, please see Andrea's contact page. She'll be glad to know you were here!

© 2007 - 2013 Andrea Adkins. All rights reserved
Site developed by Lojic Technologies